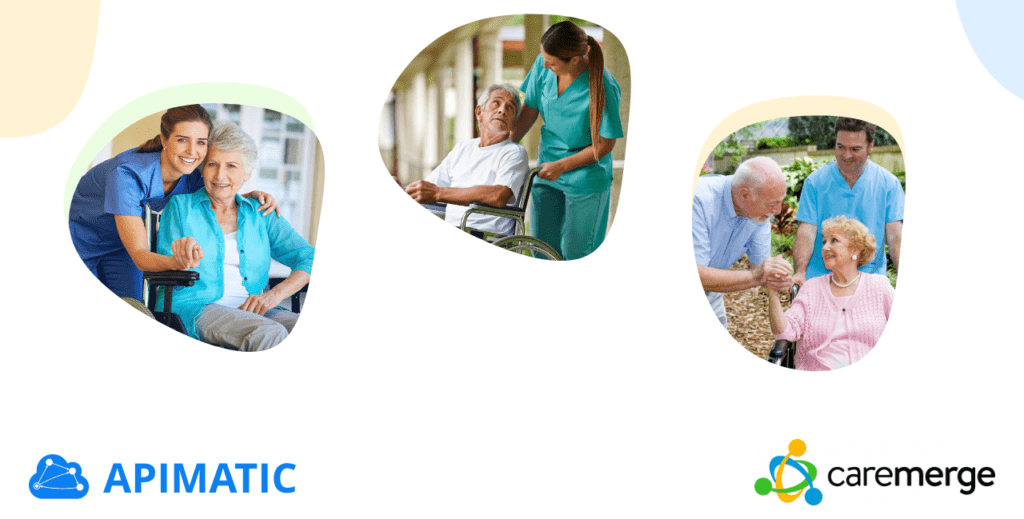 According to the United States Department of Health and Human Services, there are over 39.6 million elderly people in the US, out of which 1 Million are being actively served an elderly care facility. Today's seniors want to better leverage technology to enhance their quality of life. The industry, estimated at $740 billion, is full of challenges and is ready for disruption.
Caremerge is one of the companies providing tools for modern elder care, including an API platform to drive apps and integrations. Partnering with APIMatic saved the Caremerge team lots of time and made it easy for others to build with their API.
The company aims to provide an all in one platform to address all problems that challenge the demographic including Family Engagement, Community Engagement, Calendar Central, and Chronic Care Management. Additionally, they bring in various pre-existing services from the market and make them more accessible for these senior citizens, for instance with voice commands. Something which they manage using multiple internal microservices and a public API.
Caremerge API powers much of the communication between the facilities and services they offer, and allows them to build integrations with various third-party vendors and services. Building those integrations requires the documentation for the API to be always upto the mark, meeting all modern standards, so developers spend less time figuring out how to integrate.
But maintaining and producing documentation is a challenge of its own, something which took them valuable resource and time. Since the product is very technical, they had a senior engineer working on documentation. To save time for that resource they decided to automate documentation and started looking for an out of the box documentation solution. Trying multiple open source and paid solutions including Swagger UI, they found a lot of them hard to maintain. Until they came across APIMatic, which not only did the job for them by producing better than ever documentation, but did it in record saving time, while completely minimising the effort at their end.
"APIMatic helps us save 20–30% of the time it took us to manage documentation for our API"

Fahad Aziz, Co-Founder and CTO, Caremerge
Often documentation can get too wordy and hard to navigate, but according to Caremerge, their customers and partners loved the way information was laid out for them.
" APIMatic has made integrating so easy for us. Whenever our partners go through the documentation, they know just what to do."

Muneeb Khawaja, VP Engineering, Caremerge
What added wow factor to the documentation, was the interactive console, which allowed developers to test inputs and outputs, within the docs, allowing developers to back and forth with the API. Today CareMerge is working on more integrations that ever, helping seniors through out America live reasonably enhanced lives.
"Integrations built with APIMatic Documentation are benefitting over 30 thousand senior citizens "

Fahad Aziz, Co-Founder and CTO, Caremerge
For us at APIMatic, it has always been a motto to make lives of developers easy, to make things comfortable for them, and those developers in turn contributing to enhance the quality of lives of our senior citizens, is something which makes us really happy. Just like the medicare and healthcare industry, we are excited to see the senior living industry go through such a shift, and are delighted to be a part of it.
Thanks to Adam DuVander.